The Teachers' Lounge® has moved!
We are now located in Ronnies Plaza across the parking lot from the theater!
Click on the map on the left for directions.
The Teachers' Lounge is St. Louis' finest Parent/Teacher Store. We pride ourselves on having the best customer service and product selection in the industry. Our team members are happy to assist you in finding the perfect educational product for your classroom or home. We carry over 6,000 of the best educational products on the market and also have a selection of over 30,000 products in our
on-line store
. Stop by and visit us today!
Join Us for a Workshop In April
We will be hosting a variety of teacher workshops in our NEW in-store classroom throughout April! Bring your friends and join us for a fun, hands-on, educational class. All attendees will receive a certificate of attendance and a $10 voucher to use in the store! Click the image below to download the PDF with all the info.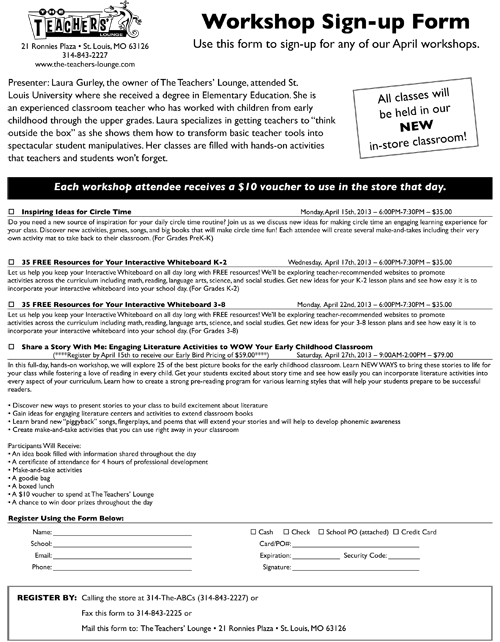 See How FUN Our Birthday Parties Can Be!
Did you know that The Teachers' Lounge can host your child's next BIRTHDAY PARTY? With 14 DIFFERENT THEMES for kids AGES 2-10, you'll be sure to find just the right party for your son or daughter. Just bring the cake, and then sit down and RELAX as we keep the kids entertained with engaging crafts, activities, and games for 90 MINUTES!
Click on the image below to download the flyer.
PRINT OFF THE FLYER FOR A COUPON GOOD FOR $100 OFF THE COST OF YOUR PARTY.
BOOK FOR ANY DATE IN 2013! HURRY-- THIS OFFER IS ONLY GOOD FOR A LIMITED TIME.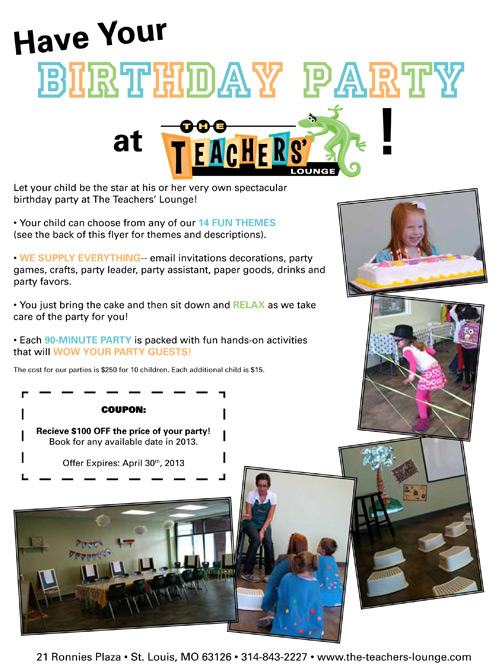 Mommy and Me Classes
Join Miss Amy for a Mommy and Me class at The Teachers' Lounge. Work on important development skills while spending some quality time with your little one. Registration can be made on a week-by-week basis giving you more flexibility. Choose the weeks that work with your schedule.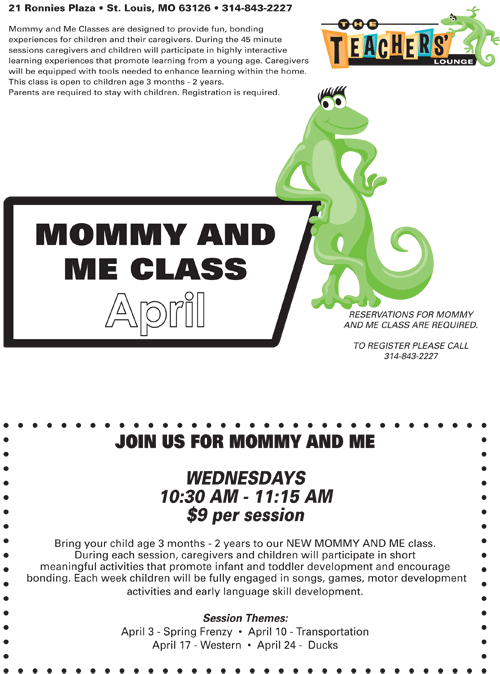 Preschool Playdate Classes
Join Miss Amy for a special class geared for our little learners age 3-5. Kids can explore the activities in the classroom which promote important preschool skills. Come with some friends for the perfect playdate or take the opportunity to meet some new playmates. You can sign up for classes on a week-by-week basis making it easy to find times that work for you.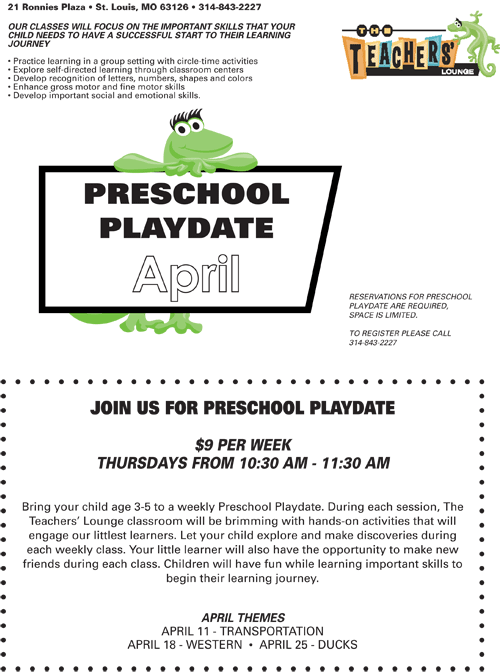 Last Chance to Turn In Your Valentine Pockets
Today (Saturday) is the LAST chance to turn in your Valentine Pockets. We've had several big winners including $100 gift cards, a pizza party, and more! There are still several gift card winners left-- so be sure to bring in your pockets this Friday, March 29th or Saturday, March 30th to see if you may hold the winning pocket. Since we got this last minute warning out so late, come in by Monday April 1st, no foolin'!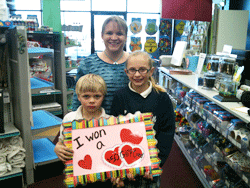 Every pocket is a winner. All prize coupons must be redeemed by Monday, April 1st.
WE LOVE TEACHERS!
Happy Easter!
The Teachers' Lounge will be closed on Sunday, March 31st for Easter. We hope that everyone enjoys the day with their friends and family!