Page 27 - 2019 Teachers' Lounge Classroom Furniture & Technology Catalog
P. 27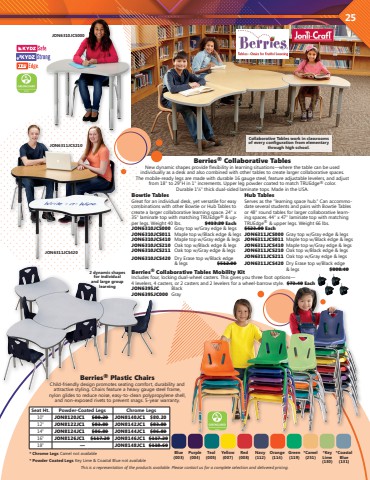 25
Standard Powdercoated Frame Colors
Model# 440
Textured Black Textured Titanium
Standard Hard Plastic Top Colors
Sand Slate
Optional Hard Plastic Top Colors
Charcoal Grey Nebula
Oak Mahogany
Model# 400
Model# 430
Maple
Walnut
Cherry
Aptitude Open Front Student Desk
The Aptitude Student Desks are a durable, attractive and affordable addition to your classroom. Choose between adjustable (1" increments from 231⁄2" - 291⁄2"H) height or  xed height of 291⁄2"H. The solid hard plastic top measures 18" x 24" and has smooth molded edges. Glides protect your  oors and keep the desk level. 10-year warranty. These desks are a perfect compliment to the Legacy Chairs.
With Book Box
400 231⁄2"-291⁄2" adjustable at
1" increments
400SE Laminate top with spray edge
400LG 19" x 26" Desk top. Adjustable at 1" increments
409 291⁄2" Fixed heights
409SE Laminate top with spray edge
Legacy 500 H-Frame Chairs
Without Baskets
430 231⁄2"-291⁄2" adjustable at
1" increments 430LG 19" x 26" HP top
430SE 18" x 24" Laminate top 439LG 19" x 26" HP top 430SE 18" x 24" Laminate top
With Baskets
440 231⁄2"-291⁄2" adjustable at
1" increments. 18" x 24" HP top 440SE Laminate top
440LG 19" x 26" HP top 440P 19" x 26" HP top 449 291⁄2"  xed height 449SE Laminate top 449LG 19" x 26" HP top
All chairs are not created equally. Every detail in construction is essential to produce high level of quality achieved in the Legacy series. Comfortable and colorful. Chemical and stain resistant. Easy to clean and durable hard plastic seat and back. Enjoy the peace-of-mind that comes with products designed for educational use.
Model# 507
Model# 517
Model# 527
Model# 537
Seat & Back Colors
502 12" Crossbrace
503 131⁄2" 512 12"
505 151⁄2" 513 131⁄2" 507 171⁄2" 515 151⁄2"
517 171⁄2" Inserts 517C 171⁄2" 560 adjustable from 12"-16" 517M 171⁄2"
seat heights at 1" increments
Bookbasket 535 151⁄2" 537 171⁄2"
Bookrack
Navy Standard HP Seat
Hunter Standard HP Seat
Sand Standard HP Seat
Black Standard HP Seat/Back
Wine Standard HP Seat
Cranberry Standard HP Seat
Slate Standard HP Seat
Teal Optional HP Seat/Back
527C 527M
171⁄2" (caster option) 171⁄2" (music pitch)
This is a representation of the products available. Please contact us for a complete selection and delivered pricing.