Page 3 - 2019 Teachers' Lounge Classroom Furniture & Technology Catalog
P. 3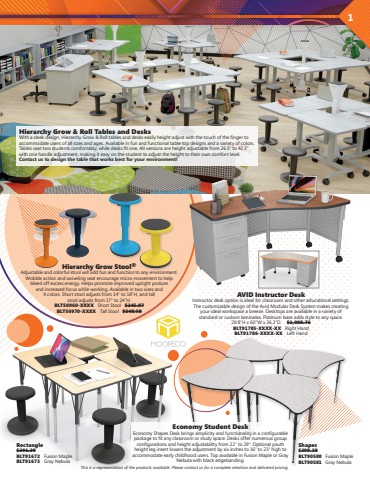 welcome
We hope you enjoy reviewing our new catalog and please be aware that this is only a representation of the manufacturers and products that we can provide. You will notice that the pricing on items is "lined out" and that is to give you an idea of the costs but please contact us for the best pricing and overall project management that we offer! We pride ourselves on excellent customer service and broad selec- tions to keep your project on track and within budget.
Please give us a call to set up a consultation and we will be happy to develop the solution for your requirements. We look forward to working together to create the most effective learning environments that engage students and staff.
Visual Communication: Pages 65-67 Easels
Marker Boards Bulletin & Tack Boards
Storage
Needs:
Pages 68-74
File Cabinets Bookcases
Mobile Casegoods Cabinets
Lockers
See inside back cover
Note: Many products in this catalog incur additional shipping costs.
Early Learning:
Pages 75-96
for manufacturer list.