Page 32 - 2019 Teachers' Lounge Classroom Furniture & Technology Catalog
P. 32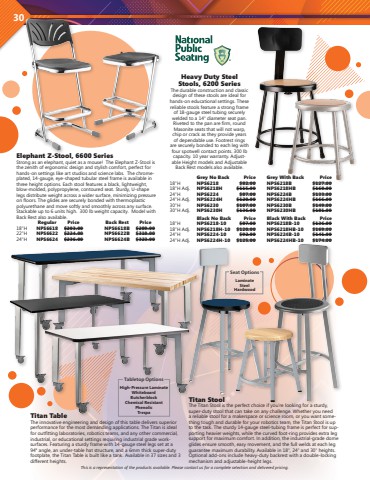 30
STEM Mobile Creativity Board
Double-sided Magnetic Write-n-Wipe panel for ideas and to visually solve problems. Pegboard panel below allows for bins or hooks (not included) to store tools and sup- plies. Features a marker tray on both sides and 2" locking casters. Magnetic Write-n-Wipe Panel: 303⁄4"W x 373⁄4"H. Overall dimensions: 621⁄2"H x 37"W x 20"D
JON3729JC
$353.80
Light Box Table
The Light Box Table makes it easy to explore colors or trace and is perfectly sized for places where
space is limited. The legs can be easily removed so that it can be used as a tabletop unit.
The super-strong acrylic top evenly distributes light
with re ective panels. The LED lights are energy-friendly,
built to last, and are ETL listed
for use in the US and Canada. 5' power cord. JON5845JC
$358.80
STEM & STEAM
These items are perfect for STEM and STEAM (Science, Technology, Engineering, Art, and Math) projects in all learning areas!
Furniture
STEM Workstation
This mobile table is the perfect workstation for two students. Two Store-it Drawers provide a place to store papers and pencils while two easily detachable, hanging Write- n-Wipe panels allow children to write down notes and ideas and share with others. The
workstation also features
a pegboard modesty
panel, which can be used to store small supplies or tools
in user-supplied pegboard
bins or hooks. These features make the workstation ideal
for incorporating STEM and STEAM (Science, Technology, Engineering, Art, and Math) ac- tivities into your learning space. The 48" x 30" laminate table top provides plenty of working space and the gray mobile legs adjust from 20" to 31" high and are 2" thick. JON6474JCM251
$590.50
STEAM Multimedia Cart
Back
Store and organize your STEM or STEAM supplies. Eleven total tubs with lids. Double-sided Write-n-Wipe sign. Pegboard back to add hanging bins and hooks (not included) and also includes space for storing larger sheet paper and roll materials. Two holders on the end of the cart to store and dispense tape, paper towels, or other roll materials. Ergonomic handles on each end. 3" locking casters. JON3522JC $666.30
This is a representation of the products available. Please contact us for a complete selection and delivered pricing.