Page 44 - 2019 Teachers' Lounge Classroom Furniture & Technology Catalog
P. 44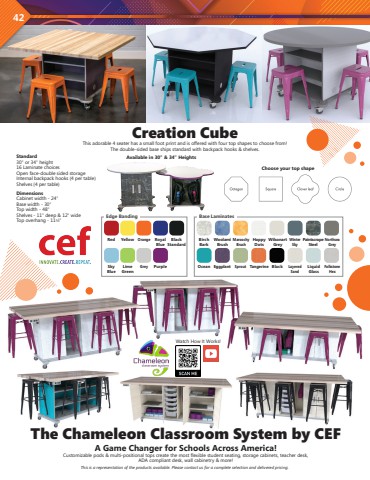 42
Child Size Display
Panels
Tot-sized to encourage participate and expand learning activities. You'll quickly attract their atten- tion with materials at their lower eye-level. Sturdy steel frame with dual-sided display panels and steel support feet. The snap-lock mechanism holds feet in place.
VT style has textured, vinyl- tackboard surface; use staples, push pins, tacks. LT style has 8 color fabric selection. Use Hook Tab Circles to position items on panels. Powder-coated  nish. Metal color: Light Gray / Beige Fabric: Blue, Red, Green, Yellow, Black, Silver, Charcoal, White
MLT-LT-440-3
MLT-LT-440 MLT-VR-440-3 MLT-VT-440
3 pack - Fabric
single - Fabric 3 pack - Vinyl single - Vinyl
$860.00
$302.00 $720.00 $258.00
Signage Stands
Portable Message Centers allow you to place your message ev- erywhere and display it your way. Place the stands in the hallway, entranceways, auditorium, libraries, student areas .. anywhere you need to share your message. Top-loading steel frame with heavy steel base. Easy assembly. Stand only (M-32) holds 22x28" posters. For smaller items, use the easy placement loop fabric display surface. (LT- 32). The white  ller with protective vinyl covers on both sides offers protection for your materials (AT-32). Display area: 22x28"; OAH 65" Metal colors: Black, Gray, Beige, White, Bronze. Fabric colors: Black, Red, Blue, Silver, Green
Etagere
Create eye-cathcing displays anywhere and everywhere! Display features a bold, contemporary design with a stylish crisscross top. Set-up is a breeze! Rotate legs to open silver powder-coated frame and insert white, MDF shelves. No tools required. Complementary to any décor! MLTEL-21-193900 5 shelves, 21"W x 76"H x 21"D
(5 shelves with 121⁄2" spacing) $367.00 MLTEL-16–193899 3 shelves, 16"W x 49"H x 16"D
(3 shelves with 111⁄2" spacing) $294.00
MLT-M32 MLT-LT-32 MLT-AT-32
Stand Only
Fabric Insert
White Insert/Vinyl Covers
$168.00 $217.00 $199.00
This is a representation of the products available. Please contact us for a complete selection and delivered pricing.