Page 8 - 2019 Teachers' Lounge Classroom Furniture & Technology Catalog
P. 8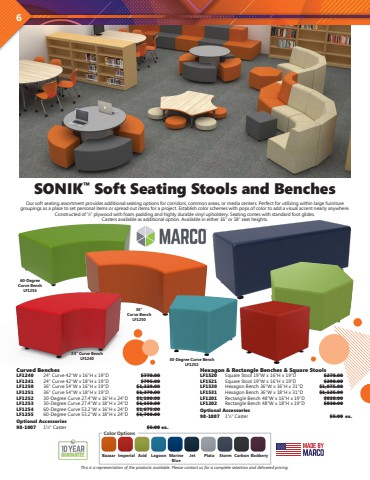 6
Champion Sports Stability Balls with Legs
Stability Balls with Legs promote good posture while sitting at home, at the of ce, or at school! These balls provide ergonomic bene ts by using trunk and abdominal muscles for core strengthening. It can also be used for stretching or exercise, and the four
legs prevent the ball from rolling away.
FitPro Ball with Stability Legs
The FitPro Ball is made of the highest quality Italian resins, this ball
FitPro Ball Chair
• Acts as an alternative to traditional of ce chairs and promotes good posture while sitting at home, school, or the of ce
• Sculpted back provides ergonomic bene ts and improves core strength by using trunk and abdominal muscles
• Compact, lightweight, and wheels on the legs make it easy to transport
• Durable plastic frame will withstand daily use
• Ball and hand pump included
• 22" x 22" x 31" • Weight: 15 lbs
CHSBCHX
High Volume Double Action Air Pump
• Pumps out air on both up and down strokes for fast in ation, and can also be used as a de ator for quick and convenient storage of balls
• Ideal economic in ator for large in atable items
• Includes a large hose for comfortable and convenient pumping
$177.02
is burst resistant.
CHSBL42 42cm Dia., Green. Recommended for under 5' CHSBL55 53cm Dia., Blue. Recommended for 5'1" - 5'6" CHSBL65 65cm Dia., Yellow. Recommended for 5'7" - 6'1" $46.75 CHSBL75 75cm Dia., Red. Recommended for 6'2" - 6'8" $55.93
Maxafe SitSolution Ball with Legs
The Maxafe® SitSolution Ball is made with Flexton Silpower® material, this exercise ball chair will de ate slowly if damaged.
CHSBRT53WL 53cm Dia., Gray. Recommended for 5'1" - 5'6" $41.69 CHSBRT65WL 65cm Dia., Gray. Recommended for 5'7" - 6'1" $50.64
$31.43 $38.50
• Valve adapter offers added versatility for in ating other exercise objects
CHSP50
Bean Bags
Perfect for classrooms, these bean bags are comfortable and durable and offer a fun solution for quiet time, reading corners and rest areas. The  exible shape makes these bags comfort- able, easy to store and easy to clean.
$30.81
School Age Double High Back Loungers
A new take on the popular beanbag chair. Double High-Back Seating offers comfortable seating for one or two! The  exible shape makes these chairs
Deep Water Blue Sage
Walnut
Sky Blue Almond
Royal Blue Green Red Rainbow Yellow
26"
$73.01
CF-610035 CF-610036 CF-610037 CF-610076 CF-610077 CF-610001 CF-610002 CF-610003 CF-610004 CF-610047
35"
$96.63 CF-610082 CF-610083 CF-610084 CF-610085 CF-610086 CF-610005 CF-610006 CF-610007 CF-610008 CF-610048
comfortable, easy to transport and easy to store. 30" x 50" x 27".
CF-610043 Blue/Green CF-610070 Blue/Red
$193.37
This is a representation of the products available. Please contact us for a complete selection and delivered pricing.