Page 84 - 2019 Teachers' Lounge Classroom Furniture & Technology Catalog
P. 84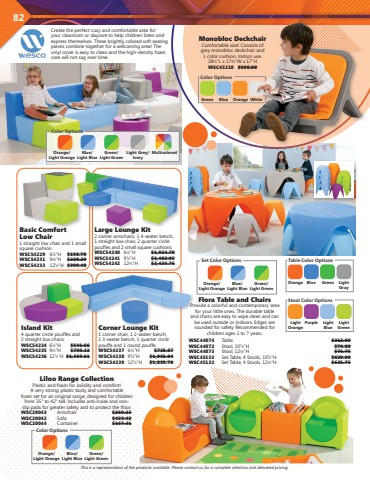 82
Puppet Theater
with Dry
Erase Board
It's opening night! All the
world's a stage for little
performers with this sturdy
and fun Puppet Theater
from ECR4Kids. Great for
playtime, the theater includes
stage curtains with a marquee board above and presentation board below the "stage." The dry-erase  nish above and below the "stage" is perfect for drawing the shows stars! Made from birch hardwood, the puppet theater features  ve shelves to store accessories neatly away and wooden braces for stability. 49"L x 20"W x 49"H
Birch Dress Up Island
Is there a doctor in the house? The birch hardwood Dress Up Island keeps costumes and accessories on hand and ready for action on a moment's notice. The rack features 10 hooks ( ve on each side), an easy-to-reach shelf on top for hats and helmets, and a storage tray at the base for shoes and boots. Two full-length acrylic mirrors on both ends allow little ones to check out their costume creations. Four convenient casters are included to move this item from room to room. 48"L x 14"W x 35"H
ELR0700 $300.00
ELR0695
$320.00
2 Level Media Carousel
Conveniently store your books and other media in the rotating 2-Level Media Carousel. Constructed
with durable birch hardwood, the smooth rotating function provides 360 degrees of convenient storage in any environment. Kid-friendly design features rounded edges
for safety. Attractive natural  nish complements classrooms, pre- schools, bedrooms, daycares and homes for an all-around storage solution. Adult assembly required. 21.65"L x 21.65"W x 23.38"H
Birch Pic-A-Book Stand
When inspiration strikes, this book stand is ready! Children can choose their favorite book on one side, then draw new stories on the other. Perfect for games, vocabu- lary, writing exercises and reading lessons. This birch hardwood unit features  ve easy-to-reach bookshelves, and a whiteboard on the reverse side with storage cubby underneath for markers, erasers and more. This birch book display has a polished natural  nish that glows in classrooms, daycares and both boys' and girls' bedrooms. Built to last: made out of durable birch and sturdy hardware. Features rounded edges for safety. 32.25"L x 16"W x 27.5"H
ELR083 $220.00
3-In-1 Art
Easel
With the 3-in-1
Easel, young artists
can experiment on three
different canvas options:
chalk, dry-erase, and
paper. Perfect for use in
school and at home!
Easel includes storage
tray with holes for paint
cups, three paint cups,
colorful chalk, eraser,
dry-erase marker, and
six magnets. Easel is
adjustable from 36" - 49"H. Reversible Easel —
double-sided easel with chalkboard on one side, magnetic dry-erase board on the other, and a paper roll for painting and drawing.
ELR17401 $79.00
ELR17421
$200.00
This is a representation of the products available. Please contact us for a complete selection and delivered pricing.