Page 96 - 2019 Teachers' Lounge Classroom Furniture & Technology Catalog
P. 96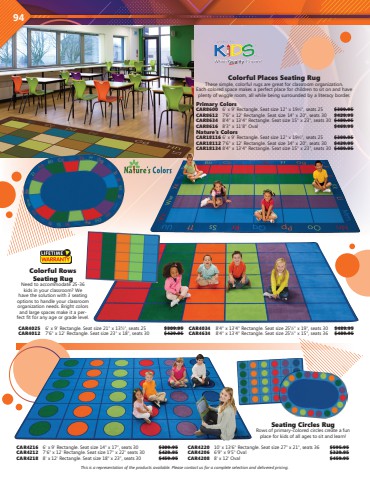 94
Tri-Me Collection
Turn a Tri-Me seat on its side to unlock its hidden adaptability! By simply  ipping these lightweight and portable pieces, you can transform them between a 6" seat, a 9" seat or a sturdy activity table for kids. Big kids can even use the table setting as an adult chair! Made from waterproof, weatherproof plastic, the cube seating makes a fun and versatile addition to both indoor and outdoor environments. Available in both cubes and benches — mix and match to create your own custom furniture set. Bright primary colors provide  exible alternative seating options to complement early education environments such as preschools, daycares, kindergartens and even homes. Made from durable plastic that won't crack, chip, peel or fade.
Tri-Me Chair - 15"H x 15"W
ELR14430-BL Blue
ELR14430-GN Green
ELR14430-RD Red
ELR14430-YE Yellow
Tri-Me Bench - 15"H x 30"W
ELR14431-BL Blue
ELR14431-GN Green
ELR14431-RD Red
ELR14431-YE Yellow
Tri-Me Chair 4-Piece - Assorted
ELR14432-AS Assorted
Tri-Me Bench and Chairs Set 3-Piece
$60.00 $60.00 $60.00 $60.00
$240.00
$220.00 $220.00 $220.00 $220.00 $220.00
$100.00 $100.00 $100.00 $100.00
ELR14434-BL ELR14434-BLGN ELR14434-GN ELR14434-RD ELR14434-RDYE
Blue Blue/Green Green
Red Red/Yellow
Lil Sprouts Stools
Playful stools with practical features! These modern-looking seats are colorful and outdoor-friendly for a sturdy seating option that works in any environment. Weather and fade-resistant resin resists chipping, peeling and cracking, making these kid-friendly pieces that are ideal for playgrounds, backyards and bedrooms. Durable design can hold adults as well as children — incorporate these into board game night or your family
den! Stools can also be used as a handy side
table with a storage compartment beneath
the seat. Colorful resin material is easy to
clean with soap and warm water. 15.3"H
ELR14433-BL Blue ELR14433-GN Green ELR14433-RD Red ELR14433-YE Yellow
$60.00 $60.00 $60.00 $60.00
Resin Chairs
Chairs in cheerful primary colors will brighten up your classroom, playroom, or outdoor space! Comfortable and sturdy, Resin Chairs are available in a variety of sizes to accommodate children of all ages. Complementary colors mix and match to coordinate with Resin and Adjustable Activity Tables. Chairs are easy to clean and sanitize, and feature a one-piece design that requires no hardware or tightening— a classroom favorite! Made from UV resistant polypropylene that won't chip or peel, with rounded edges for safety.
Assorted Color 6-Pack Chairs ELR15135-AS 12" Seat Height ELR15136-AS 14" Seat Height
Single Color Chair Packs
ELR15812-XX 12" Seat Height, 10 Chairs ELR15814-XX 14" Seat Height, 8 Chairs
Price Per Pack $108.00 $156.00 Price Per Pack $180.00 $208.00
Orange (OR)
Table & Chair Colors
Red Green Blue (RD) (GG) (BL)
Yellow (YE)
This is a representation of the products available. Please contact us for a complete selection and delivered pricing.