The Teachers' Lounge®
We are located in Ronnies Plaza across the parking lot from the theater!
Click on the map on the left for directions.
The Teachers' Lounge is St. Louis' finest Parent/Teacher Store. We pride ourselves on having the best customer service and product selection in the industry. Our team members are happy to assist you in finding the perfect educational product for your classroom or home. We carry over 6,000 of the best educational products on the market and also have a selection of over 30,000 products in our
on‑line store
. Stop by and visit us today!
Click here to enjoy a WALK AROUND The Teachers' Lounge
Google Websites Workshop
Looking to build a classroom website, but don't know where to start? Let The Teachers' Lounge help you! Adam Meesey, Technology Coordinator at Holy Infant School in Ballwin, will walk you through the steps to make a great classroom website.
This is a two-part class, where you will first learn about how to make the website, Monday, October 19th (6:00PM-7:30PM), and then return on Monday, October 26th (6:00PM-7:30PM) to ask Adam questions about making your website stand out from all the rest and learn how to integrate a classroom calendar, forms and other tricks to help your students and parents.
He will be using Google sites, which is a free service to schools who subscribe to Google for Education. Participants must attend both parts of the class to receive your 3.0 hours of Professional development and your $10.00 voucher that can be used on products in the store. Limit 15 participants for this class. Participants must bring a laptop to this class please.
Cost: Only $79.00 for 3 hours of professional development!
Registration is now open. Please call the store at 314-843-2227 to register.
Classroom Ideas
Jessica Schneider from Pierremont Elementary has some amazing bulletin board ideas to share! She has an entire wall in her classroom dedicated to bulletin board space. I love how she used different colors of background paper and various borders to break up the wall and give some attention to individual boards. And, the camping theme is adorable. What a terrific way to fill your room with bright colors and great content!
Thanks so much to Jessica for sharing her classroom photo with us! Your $10 Teachers' Lounge Gift Card is in the mail.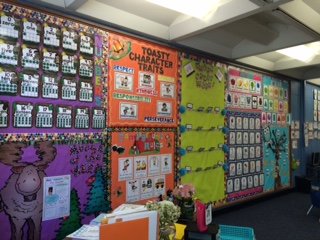 Want to share your classroom and teaching ideas with other St. Louis teachers? Just email your photos to laura@the-teachers-lounge.com! If your photos are chosen to be featured in our newsletter, you will receive a $10 gift card!
Liquid Timer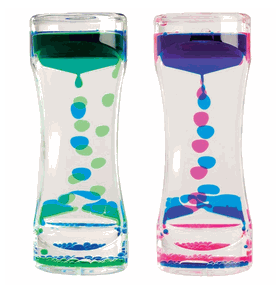 Liquid Timers are a great addition to any classroom. The rhythmic motion of the dropping circles have a calming effect on students. Set the timer to help mark transition times or as a visual reminder of time remaining for an activity. Each timer lasts for 2-3 minutes making it a go-to tool for your school day.