The Teachers' Lounge®
We are located in Ronnies Plaza across the parking lot from the theater!
Click on the map on the left for directions.
The Teachers' Lounge is St. Louis' finest Parent/Teacher Store. We pride ourselves on having the best customer service and product selection in the industry. Our team members are happy to assist you in finding the perfect educational product for your classroom or home. We carry over 6,000 of the best educational products on the market and also have a selection of over 30,000 products in our
on‑line store
. Stop by and visit us today!
Click here to enjoy a WALK AROUND The Teachers' Lounge
The Cards and the Lounge - a winning team!
The Teachers' Lounge is proud to be sponsoring Teachers and Staff Appreciation Nights with The World Champion St. Louis Cardinals!
Through this program we are providing discounted tickets to five games throughout the summer! Discounted tickets are all-inclusive and start at just $60 each! All-inclusive tickets include a buffet, complimentary beer & soda, and a great view of the game!
To puchase tickets, visit The Teachers' Lounge St. Louis Cardinals Teacher Ticket Site today!
Win FOUR Tickets to the first Teacher Night!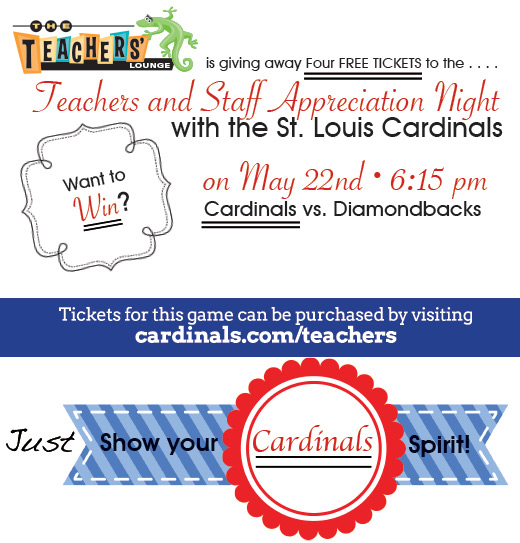 The Teachers' Lounge is giving away FOUR FREE ALL-INCLUSIVE TICKETS to the first Teachers and Staff Appreciation Night with the Cardinals!
You can enter our contest just by Showing your Cardinals Spirit:
• Take a photo that shows your Cardinals spirit.
• Be Creative! - - - Your photo can be a picture of you, something in your classroom, something in your school, etc. (No photos of students please.)
• Post your photo on The Teachers' Lounge facebook page by Tuesday, April 15th.
www.facebook.com/weloveteachers
• Important! Include the hashtag #cardinalsteacher when posting your photo.
The Details: The Teachers' Lounge team will choose their 3 favorite photos. The photo that receives the most likes of those 3 will be declared the winner. All teachers and school staff are eligible to enter.
Please spread the word to your friends! Surely the winner will appreciate the tip by taking you along to the game :-)
Win More at Each Game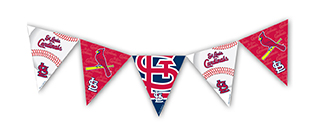 Be sure to visit The Teachers' Lounge table at each Teachers and Staff Appreciation Night game! We'll have some special treats for all of our Cardinals Nation Teachers.
Plus, we'll have a special drawing for our favorite Cardinals teacher fans! Any teacher that attends one of the first 4 games can enter to WIN A CARDINALS CLASSROOM MAKEOVER!
After the July 23rd Game, we will draw a winner! The winner will earn a FREE CUSTOM CARDINALS CLASSROOM MAKEOVER for the 2014-15 school year with all the decorative materials and labor provided by The Teachers' Lounge!