Location
-
Directions
The Teachers' Lounge
21 Ronnies Plaza
St. Louis, MO 63126
314-The-ABCs
(314-843-2227)

888-59-TEACH
The Teachers' Lounge®
We are located in Ronnies Plaza across the parking lot from the theater!
Click on the map on the left for directions.
The Teachers' Lounge is St. Louis' finest Parent/Teacher Store. We pride ourselves on having the best customer service and product selection in the industry. Our team members are happy to assist you in finding the perfect educational product for your classroom or home. We carry over 6,000 of the best educational products on the market and also have a selection of over 30,000 products in our
on‑line store
. Stop by and visit us today!
Click here to enjoy a WALK AROUND The Teachers' Lounge
Dec. 12th- Make a Gift for Dad
Only 8 spaces available!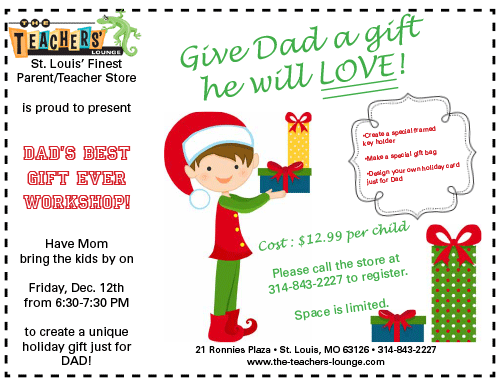 Dec. 13th- Gingerbread with Grandma
Only 6 spaces available!
Dec. 19th- Make a Gift for Mom
Only 5 spaces available!
Great Gifts the Kids Won't Already Have
The Teachers' Lounge is stocked with wonderful holiday gifts that you won't find anywhere else. We have the perfect present for your budding artist, expert scientist, or future engineer. Be sure to stop by and try a few games at our demo bar as well. You're sure to find a new family favorite!

Need a Teacher Gift?
Our team members are happy to help you find the perfect gift for your child's teacher this year. We have many options that all teachers will LOVE. Just stop by and let us help you select a unique holiday gift.
©Copyright 2014, The Teachers' Lounge™, All Rights Reserved • 314-The-ABCs (314-843-2227) • (888) 59-TEACH • 21 Ronnies Plaza • St. Louis MO 63126