The Teachers' Lounge®
We are located in Ronnies Plaza across the parking lot from the theater!
Click on the map on the left for directions.
The Teachers' Lounge is St. Louis' finest Parent/Teacher Store. We pride ourselves on having the best customer service and product selection in the industry. Our team members are happy to assist you in finding the perfect educational product for your classroom or home. We carry over 6,000 of the best educational products on the market and also have a selection of over 30,000 products in our
on‑line store
. Stop by and visit us today!
Click here to enjoy a WALK AROUND The Teachers' Lounge
Bring the Kids-- FREE FAMLY EVENT!--Sat. Oct. 4th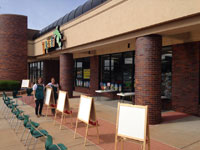 Looking for something FUN to do with your kids this weekend? Bring them to The Teachers' Lounge for a FREE Cardinals Fun Day and join the Teachers' Lounge team for a morning of baseball fun!
Stop by anytime between
10:30 AM - 12:00 PM!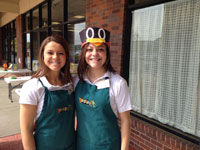 Your children can make a Fredbird hat, decorate a pennant, paint on easels, play games and more!
Ages 3 and up! • FREE! • No Registration required!
Just stop by!
Don't Miss Your Chance to Participate in This Innovative Class
As the mom of a little one who wants to be a teacher when she grows up (yea!!!), I have often wondered how I can encourage her and support her in finding out more about teaching as she grows. We work with our children to develop all types of skills like soccer, science, and art. How can we expose them to the art of teaching? The Hoenny Center has the answer, and you won't want to miss their remarkable teacher workshop on this topic.....
The Teachers' Lounge is excited to be partnering with the Hoenny Center for an exclusive class this fall! The Hoenny Center is a non-profit organization located right here in Missouri. They have conducted years of research to discover the processes and benefits of student-led peer teaching in the classroom. See how you can work to enhance your lessons with your students and develop the natural teaching talents of your class.
Workshop Title: Catch 'em Teaching! Then What?
Date: Oct. 8th

Time: 6:00-7:30 PM

Location: The Teachers' Lounge

Grade Levels: K-5 (Many concepts can be applied to middle and high school)

Presenter: Mary E. Bickel and J. Terry Gates

Cost: $40.00

Professional Development Hours: 1.5

Description: Learn how to take advantage of the research-based benefits of K-12 peer teaching that support the Common Core and ELA standards. You'll be surprised by your students' teaching insights and increased engagement in all subject areas.
The recently completed Knowledge-Builders Handbook and Startup Guide help students become aware of their teaching skills and practice them along with their regular classroom subjects. In collaborative groups and during one-on-one peer tutoring, students will improve their inevitable peer interaction in class as they help each other learn-- from primary-years' "show and tell" to 5th-grade demonstration speeches to middle and high school peer tutoring.
"We nurture all kinds of abilities in kids, why not teaching?"


Extras: Each attendee will receive ALL of the following as part of registration:
Certificate of attendance
$10 Voucher for the Teachers' Lounge
Free Copy of Knowledge-Builders Level 1 Combo Pack: Student Handbook and Teacher's Manual ($14.95 Value)
Presenter Bios: Mary spent 30 years in one school district teaching K-12 students in Rochester, New York. Her doctorate is in Curriculum and Instruction from the University of Rochester. Terry spent 43 years teaching middle school, undergrad, grad students and preparing teachers-- most recently heading up the Teacher Education Institute at the University at Buffalo. His doctorate is from the University of Illinois. Together they founded the Hoenny Center for Research and Development in Teaching to focus on the teaching abilities of K-12 students. With professional partners, they look closely at the ways students help each other learn. "They're on the next frontier of teacher development." This year, along with a Missouri state steering committee, they created the Missouri Congress of A+ Tutors, MoCAPT, a unique conference day where A+ high school tutors and their advisors gave presentations together.
Call 314-843-2227 to register!