The Teachers' Lounge®
We are located in Ronnies Plaza across the parking lot from the theater!
Click on the map on the left for directions.
The Teachers' Lounge is St. Louis' finest Parent/Teacher Store. We pride ourselves on having the best customer service and product selection in the industry. Our team members are happy to assist you in finding the perfect educational product for your classroom or home. We carry over 6,000 of the best educational products on the market and also have a selection of over 30,000 products in our
on‑line store
. Stop by and visit us today!
Click here to enjoy a WALK AROUND The Teachers' Lounge
Largest Selection of NEW Products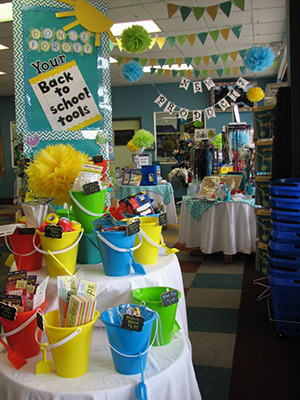 Why not make your back-to-school shopping a little more fun? At The Teachers' Lounge, we pride ourselves on finding THE BEST NEW EDUCATIONAL PRODUCTS AT THE BEST VALUE. Shop with us this back-to-school season where you can see OVER 1,000 BRAND NEW CLASSROOM TOOLS.
Every single item in our store has been hand-selected by a real teacher who strives to find resources that support best practices in education. We also encourage our customers to try out our favorite products at our demo bar to make sure that you are getting just what you need to support your students and your curriculum.
Thank you for allowing us to be a resource for your classroom!
Need Decorating Ideas?
Visit our NEW CLASSROOM DESIGN STUDIO and find some decorating inspiration as you get your room geared up for another awesome school year!
Check out all of the terrific new patterns and colors available for today's classrooms and see why mixing and matching is the hottest look for designer rooms.
Not sure what really goes together? No problem-- we've taken the guesswork out of your classroom decorating and have pulled together several color and pattern combinations that will work in any room.
So, relax, browse, take pictures, be inspired, and find the right look for your classroom this year!
Get Organized This Year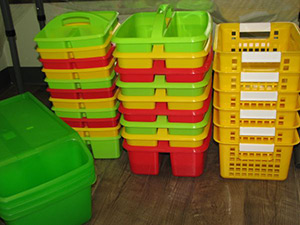 The Teachers' Lounge has a large selection of classroom organizing tools. Find the best color choices and combinations to perfectly match your decor. Hundreds of bins and baskets are in stock now! Shop soon for the best selection!
Tissue Poms and Lanterns Now in Stock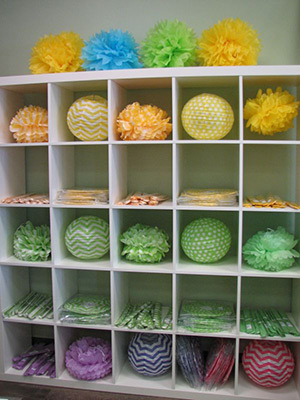 Want to ad a little pizzazz to your room this year? Try hanging some of our new lanterns or poms in your classroom! We've had so many requests for these this year (thanks Pinterest :-) that we've decided to bring them in for a limited time.
And, if we were going to add them to our back-to-school collection, ordinary ones just wouldn't do. We've hunted down the absolute cutest poms and lanterns complete with stripes, polka dots and chevron! Hang them from your ceiling or set them on a shelf-- it's a great way to add color and fun.
We have 25 different decorations to choose from so you'll definitely find a perfect match for your room. Hurry in for the best selection!
Earn $5 Vouchers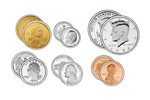 Need to do some back-to-school shopping for your classroom? Stop by The Teachers' Lounge this week where you can earn a $5 voucher for every $50 you spend! All $5 vouchers can be used anytime in September on any in-stock items you need for the beginning of the school year. This deal will continue through Thursday, July 31st, so hurry in!
FREE MONEY! What's better than that?
Early Bird Hours-- August 1-15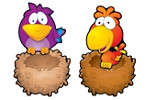 We will be opening at 9:00 AM August 1st - 15th for all of our back-to-school shoppers! Get a head start on your day as you begin decorating and preparing your classrooms.
Please note that these early bird hours will be taking place Mondays-Fridays only. On Saturdays, we will be open from 10:00 AM - 5:00 PM, and on Sundays, we will be open from 12:00 PM - 5:00 PM.
Pirate Event-- August 3-9
Our annual pirate event is coming soon!
Aug 3rd - Aug 9th.....
Don't miss our seventh annual Pirate Event at The Teachers' Lounge, "School's Coming... Grab Your Booty!" The event runs Sunday, August 3rd through Saturday, August 9th. For every $10 that you spend at the store during this event, you can choose a coin from our Pirate Treasure Chest. Pull a marked coin and win a prize! It's that easy!
WE HAVE OVER 1,000 PRIZES TO GIVE AWAY... bulletin board sets, books, teacher tools, toys, games, and more! Don't miss this great back-to-school event where we reward our customers with great giveaways! Come back every day as we display new prizes daily!
Sales Tax Holiday this Weekend
If you are looking to save even more money, come in this weekend!
Visit on Friday (9AM-8PM), Saturday (10AM-5PM) or Sunday (noon-5PM), we will be honoring the Missouri Sales Tax Holiday - the first $50 of each purchase is tax free!