Page 10 - 2019 Teachers' Lounge Classroom Furniture & Technology Catalog
P. 10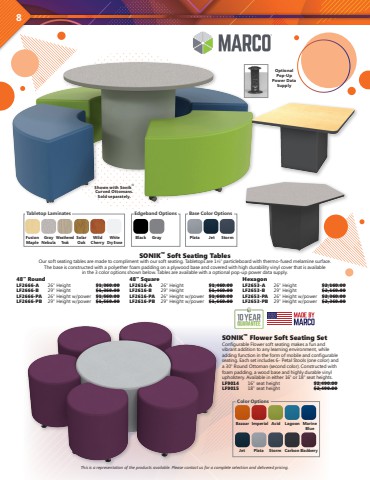 8
Wobble Chair
A Wobble Chair means kids don't have to sit still
Patented design with a gently rounded bottom, Wobble Chair transforms the boring conventional seat into a playground for your child's imagination. Regular chairs force children's bodies to conform to an unnatural posture. The innovative Wobble Chair allows one's knees, hips and back to  nd comfortable and ever-changing positions. Made in the USA. Active sitting creates secondary focus.
• Become more productive: Active sitting creates secondary focus.
• Now manufactured with a patent-pending, FDA approved antimicrobial that has
been tested to reduce up to 99.9% of common bacteria
• Homework, drawing, eating and playing video/board games are no longer
sedentary activities
• Colorful choices make it a good for any child's room or school environment
• Ideal for children with ADD or ADHD; provides an outlet for
restlessness and extra energy. Kids love the Kore Wobble Chair
• Easy 2 minute assembly
• Award winning products made in the USA.
Pre-Teen Active Chair
• Gently rounded ergonomic base allows you to move and  ex without leaving your seat
• Exercises legs, back, and abdominal muscles
• Easy 2 minute assembly
• Great for doing homework and playing
Toddler
11" Dia. Seat
10" Chair Ht.
133⁄4" Dia. Base 133⁄4" Dia. Base 133⁄4 Dia. Base
$57.99 $78.99
$89.99 KD-612 KD-613 — KD-614 —
— KD-611 KD-610 KD-615
Kids
11" Dia. Seat
Junior
11" Dia. Seat
14" Chair Ht.
16" Chair Ht.
Red KD-591 Blue KD-592 Purple KD-593 Green KD-594 Yellow KD-595 Dark Blue — Dark Grey — Black — Orange —
KD-112 KD-113 KD-599 KD-115 KD-116 KD-117 KD-590 KD-600 KD-601
video games
• 11" dia. seat
• 18.7" chair height
• 133⁄4" dia. base $99.99 Each KD-9118 Green KD-588 Dark Blue KD-589 Dark Grey
KD-597 Purple KD-598 Black KD-602 Orange
This is a representation of the products available. Please contact us for a complete selection and delivered pricing.