Page 53 - 2019 Teachers' Lounge Classroom Furniture & Technology Catalog
P. 53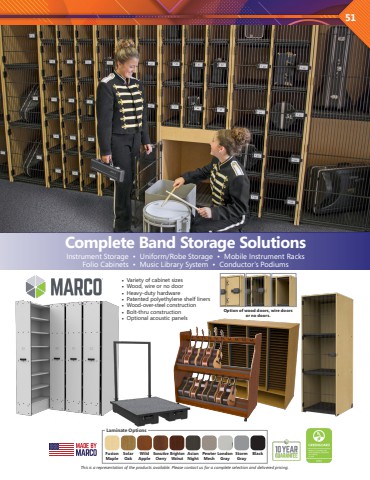 Mobile Convertible Bench
AmTab Mobile Convertible Benches are versatile. They can be used for various activities and fold for easy storage and cleaning. Standard Features Include:
• Built-In Safety Feature - Prevents  ngers from being pinched
when folding the table
• EZ Coupling Device (CD) - Table-to-table hookup device
standard on all models
• Table Height: 29"H; Bench Height: 17" Standard
Extra Bene ts of the All-In-One Include:
• Top Support Legs - Provide extra support, strength,
and stability
• Shorter Caster Beam - Adds seating capacity
• Compact Nesting & Storage - Provides easy set up and
compact storage
• Heavy-duty Casters - 3" diameter heavy-duty non-marking
double ball bearing casters for strength and stability
All-In-One Mobile Convertible Bench
Seats
Size WxL
AMTACB6
3-4
29" x 72"
AMTACB7
4-5
29" x 84"
AMTACB8
4-6
29" x 96"
Mobile Convertible Bench
Retro t kit available to convert standard units to All-In-One
AMTMCB6
3-4
29" x 72"
AMTMCB7
4-5
29" x 84"
AMTMCB8
4-6
29" x 96"
Coupling
EZ Tilt Mobile Cafeteria Tables
AmTab's EZ-Tilt Mobile Cafeteria Tables make cleaning a cinch in your eating areas. Each attractive and durable table comes with a spring-loaded T-Autolock that ensures your tabletop stays safely locked in place. Easily unlock the seamless one-piece laminate top and fold down to store. Since all EZ-Tilt tables nest compactly, you'll take up less space in your storage room. The 14-gauge steel frame keeps your table balanced and properly supported for years of use. Made in the USA and comes backed by a 15-year warranty. GREENGUARD certi ed.
Select from a variety of standard Top and Edge color options and Metal Finishes to match any decor. Choose from available Upgrades for Wheel Colors, Custom Logo Top, or ADA Accessibility.
Spring Loaded T-Autolock Balanced Compact Storage Construction
51
EZ-Tilt Mobile Tables
Shape
Table WxL
AMTMRZT48
Round
48" Dia.
AMTMRZT60
Round
60" Dia.
AMTMSQZT48
Square
48" x 48"
AMTMSQZT60
Square
60" x 60"
AMTMHXZT60
Hexagon
60" Dia.
AMTMOCZT60
Octagon
60" Dia.
AMTMOVZT72
Oval
60" x 72"
AMTCBH2448
Half Round
24" x 48"
AMTCBH3672
Half Round
36" x 72"
AMTCBH3060
Half Round
30" x 60"
AMTCB1860
Rectangle
18" x 60"
AMTCB1872
Rectangle
18" x 72"
AMTCB1884
Rectangle
18" x 84"
AMTCB1896
Rectangle
18" x 96"
AMTCB2448
Rectangle
24" x 48"
AMTCB2460
Rectangle
24" x 60"
AMTCB2472
Rectangle
24" x 72"
AMTCB2484
Rectangle
24" x 84"
AMTCB2496
Rectangle
24" x 96"
AMTCB3048
Rectangle
30" x 48"
AMTCB3060
Rectangle
30" x 60"
AMTCB3072
Rectangle
30" x 72"
AMTCB3084
Rectangle
30" x 84"
AMTCB3096
Rectangle
30" x 96"
AMTCB3648
Rectangle
36" x 48"
AMTCB3660
Rectangle
36" x 60"
AMTCB3672
Rectangle
36" x 72"
AMTCB3684
Rectangle
36" x 84"
AMTCB3696
Rectangle
36" x 96"