Page 72 - 2019 Teachers' Lounge Classroom Furniture & Technology Catalog
P. 72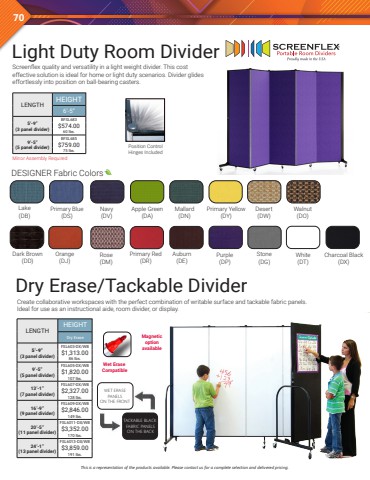 70
Flushback Pick-a-Book Stands
Easily store lots of books with these space-saving Pick-a-Book Stands. Five display shelves, approximately 1" deep. Write-n-Wipe partitions. Fully rounded
top. Stores  ush against walls. No storage in back. 131⁄2"D x 271⁄2"H.
JON3459JC
JON3517JC JON3514JC
Extra-Wide Pick-a-Book Stand, 48"W. Weight 66 lbs.
Wide Pick-a-Book Stand, 36"W. Weight 47 lbs. Pick-a-Book Stand, 30"W. Weight 46 lbs.
$305.20
$256.80 $232.50
Bookcases with Adjustable Shelves
House thousands of books in these bookcases! Shelves adjust in 11⁄4" increments. Wall fastener included. GREENGUARD® Gold Certi ed. 361⁄2"W x 111⁄2"D.
4 Adjustable Shelves, 591⁄2"H
Fully Assembled
Ready-to-Assemble
JON0972JC $455.50
JON0962JC $407.50
3 Adjustable Shelves, 48"H
JON0971JC $366.70
JON0961JC $321.30
2 Adjustable Shelves, 351⁄2"H
JON0970JC $316.80
JON0960JC $281.80
TrueModern Bookcases
Multi-functional storage is robust enough for heavy books. Bottom storage area helps reduce clutter and allows items to be hidden behind two sliding doors for a clean, modern look. Bookcases feature adjustable shelves.
JON1728JC
JON1723JC JON1724JC JON1725JC
Book Rack
Two-Shelf Bookcase Three-Shelf Bookcase Four-Shelf Bookcase
$321.30
$435.80 $459.80 $548.70
Small Single Storage
Great for books or unit blocks or near teacher's desk! 24"W x 15"D x 351⁄2"H. MAXBrackets®. Limited lifetime warranty. JON0450JC $240.80
Back Options Available for above
This is a representation of the products available. Please contact us for a complete selection and delivered pricing.