Page 75 - 2019 Teachers' Lounge Classroom Furniture & Technology Catalog
P. 75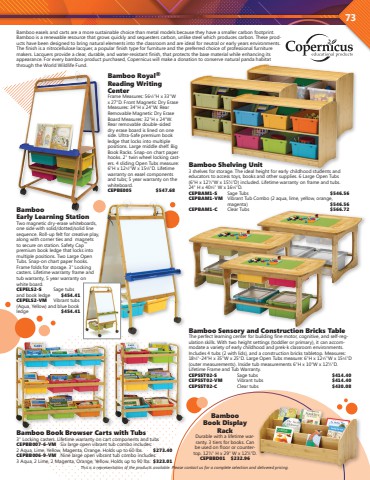 73
Storage Cabinet
Model# 8036
4 adj. shelves
72"H x 36"W x 18"D $1,149.00
Black
09 05 07 04 02
Combination Wardrobe/Storage Model# 8118
72"H x 36"W x 18"D $1,319.00
Oversized Cabinet
Model# 8208
4 adj. shelves
78"H x 36"W x 24"D $1,429.00
Counter Height Cabinet
Model# 8080
2 adj. shelves
42"H x 36"W x 18"D $819.00
Deluxe Storage
Cabinets
180 lb. shelf capacity, evenly distributed. Shelves adjust on 2" centers. Heavy gauge steel. 3 point locking system. Finishes in stock: Black, Light Gray, Putty, Tropic Sand, Charcoal.
Finish Colors
Light Gray
Putty
Tropic Sand
Charcoal
Finish Colors
Putty 07
Charcoal 02
Light Gray 05
Forest Green 08
White 22
Red 01
Tropic Sand 04
Blue 06
Black 09
Mobile Storage Cabinet
Heavy gauge steel (20/22 gauge). Patented heavy duty 12 gauge caster base. (4) 5" casters; 2 with locking brakes. Casters located to permit  ush posi- tioning to walls. Recessed 3-point locking handle. 3 extra deep adjustable shelves, plus bottom shelf. Welded steel construction. Shipped assembled. Powder coat  nish. 36"W x 24"D x 66"H.
9551WC $1,599.00
PWS722136BLK
Heavy Duty Racks
PWS722148BLK
Heavy duty wire racks are ideal for commercial, school, or of ce
applications. Adjustable shelves. Easy to assemble. Black PWS722136BLK 36"W x 21"D x 72"H. Shelf Capacity: 300 lbs PWS722148BLK 48"W x 21"D x 72"H. Shelf Capacity: 250 lbs PWS1236BLK 36"W Extra Shelf
PWS1248BLK 48"W Extra Shelf
$355.00
$430.00 $50.00 $62.00
This is a representation of the products available. Please contact us for a complete selection and delivered pricing.