Page 92 - 2019 Teachers' Lounge Classroom Furniture & Technology Catalog
P. 92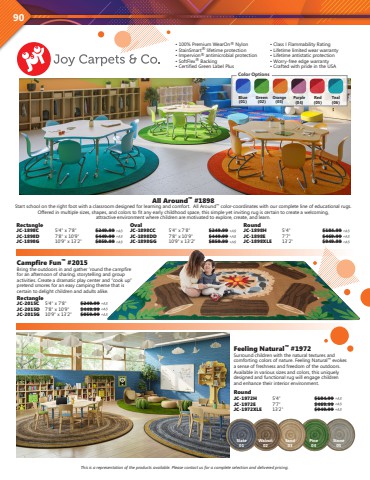 90
Bentwood Curved Back Chairs & Table
With a round seat and a curved back rest, this set creates an attractive sitting space. Chairs are easy to move from place to place making set up a breeze. Made with durable birch bentwood that glows in any environment. Stool tops available with a natural  nish that matches the frame, or in bright assorted colors. The Bentwood Table and Curveback Chair Set includes one round table paired with four chairs. The table and stools have rounded edges for safety. Seat Height: 12". Sets available in Assorted (AS) or Natural (NT). ELR15821-AS 4 Assorted Chairs & Table Set. Set includes: Blue, Green,
Red, Yellow Chairs $180.00 ELR15821-NT 4 Natural Chairs & Table Set $180.00
Bentwood Table And Stools Set
Contemporary design includes one durable round Bentwood table paired with 12" Bentwood stools for quality time with a buddy and a puzzle. Both the table and stools feature an attractive natural  nish and stools come com- plete with colorful tops so little ones can pick their favorite. Stools slide under the table for storage when not in use. The table and stools set has rounded edges for safety. Easy to assemble. Table: 271⁄2"W x 271⁄2"D x 201⁄2"H. Stools: 10"W x 10"D x 12"H.
ELR22201-AS
ELR22201F-NT
4 Assorted Stools & Table Set. Assorted set includes: Blue, Green, Red, Yellow $160.00 4 Natural Stools & Table Set $160.00
Thickness–
The redesigned Bentwood Chair's feature a thicker ply to increase strength and durability
Enhanced Bentwood Chairs
Perfect for class time or play time, ECR4Kids Bentwood Chairs marry form with function. These comfortable, lightweight chairs are easy to pick up on their own, so you can move quickly from musical chairs to math lessons. Chairs
of the same size stack four high. Made of multi-ply birch, chairs feature a uni-body design contoured for healthy posture, smooth rounded edges, and non-scuff boots to reduce noise and protect  ooring. Clean and care: check for loose or worn parts periodically and tighten or replace as necessary. Use a clean, damp cloth or sponge with mild soap, non-bleach detergent, or general purpose cleanser. Abrasive cleaners or powders should not be used. Wipe dry thoroughly. Remove chairs from use if boots become loose or fall off.
Brace–
The updated leg brace is larger and stronger to improve overall chair stability.
Slanted Boot–
The boots on the rear legs are slanted to prevent rocking and improve overall safety.
Replacement Boots
Model# ELR23105 $20.00
The set includes eight angled boots intended for use on the back legs and eight straight boots for the front legs.
ELR15710-NT
ELR15712-NT ELR15714-NT
10" Bentwood Chair, 114⁄5"W x 114⁄5"D x 189⁄10"H
12" Bentwood Chair, 131⁄4"W x 151⁄4"D x 23"H
14" Bentwood Chair, 14"W x 163⁄4"D x 26"H
$85.00
$95.00 $105.00
Must order in case pack quantities of 2.
This is a representation of the products available. Please contact us for a complete selection and delivered pricing.