Page 40 - 2019 Teachers' Lounge Classroom Furniture & Technology Catalog
P. 40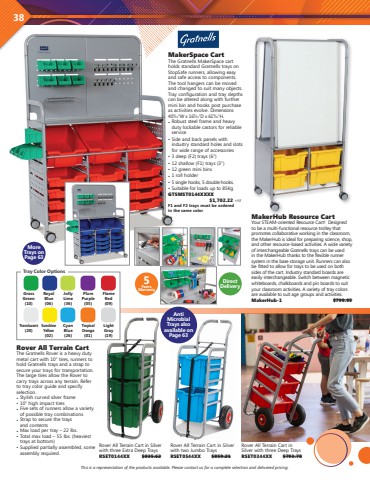 38
Four-Station Steel Workbench
Base consists of a double-faced heavy gauge steel unit, welded and riveted throughout. The unit provides 12-vertical locker openings (12"W x 21"D x 15"H). Vented doors have spring loaded hinges, padlock hasp, and knockout plug for cylinder locks. Top is constructed of 2-1/4" maple. Available with or without four vises. 64"W x 54"D x 331⁄4"H. DW-WB12-0V Without Vises $5,781.00 DW-WB12-4V With 4 Vises $8,023.00
Two-Station Art/Drafting Table
Plywood cabinet with solid maple apron and legs make this the perfect table for everyday use by two students. Center cabinet has six dovetailed locking drawers (101⁄2"W x 193⁄4"D x 2"H), master-keyed separately and
a book compartment (11"W x 22"D x 5"H). It has two fully adjustable plastic laminate tops (24"W x 24"D) and a  xed reference area of (12"W x 24"D). The adjustable top is furnished with a soft-close and a pencil stop. The top adjusts from 0 to 30 degrees. The unit is  nished with an earth- friendly UV  nish.
DW-DTA-21A
DW-DT-1SA37
$3,238.00
Drawing Table
DW-DT-9A30
Art Bench
This sturdy bench can be used in art rooms, libraries and wherever you want a solid place for people to sit. Available in two heights, the unit is made of 3⁄4" solid maple. A built in shelf provides a handy place to store books and papers. Finished with an earth friendly UV  nish. 17"W x 12"D.
30", Plain Apron
30", Small Drawer 30", Large Drawer 36", Plain Apron 36", Small Drawer 36", Large Drawer
$1,112.00
$1,309.00 $1,318.00 $1,182.00 $1,380.00 $1,437.00
2-Piece Top DW-DT-9SA30 DW-DT-2SA30 DW-DT-1SA30 DW-DT-9SA37 DW-DT-3SA37 DW-DT-1SA37
30", Plain Apron 30", Small Drawer 30", Large Drawer 36", Plain Apron 36", Small Drawer 36", Large Drawer
$1,209.00 $1,381.00 $1,438.00 $1,254.00 $1,543.00 $1,456.00
DW-DT-3SA37
1-Piece Top DW-DT-9A30 DW-DT-2A30 DW-DT-1A30 DW-DT-9A37 DW-DT-3A37 DW-DT-1A37
A variety of different tables includes one and two- piece tops, plain apron, two sizes of drawers and two heights. All units have solid maple legs and aprons and fully adjustable 3⁄4" tops with the soft close fea- ture. The one-piece tops measure 36"W x 24"D. The two-piece top has a 24"W x 24"D adjustable side and a 12"W x 24"D  xed,  at side. The DT-1 models have a large center drawer. The DT-2 and DT-3 models have a small drawer on the right side of the apron. The DT-9 model features a plain apron. All models are available in either 30"H or 36"H.
Planning Table
The base is constructed of two tapered solid maple pedestal style panel legs with two solid maple
truss bars. Choose from plain, book compartment or tote tray units. Book compartment measures: 28"W x 13"D x 21⁄2"H. The four totes measure: 13"W x 19"D x 4"H. Top options are: 13⁄4" solid maple top or 11⁄4" plastic laminate in either birch or almond color. 60"W x 42"D x 30"H.
DW-AB 17"H Stool DW-ABH 26"H Stool
$330.00 $406.00
DW-PT-62M DW-PT-61M DW-PT-60M DW-PT-62PNB DW-PT-61PNB DW-PT-60PNB DW-PT-62P DW-PT-61P DW-PT-60P
Plain/Maple
Book Compartment/Maple
Tote Tray/Maple
Plain/Natural Birch Plastic Laminate
Book Compartment/Natural Birch Plastic Laminate Tote Tray/Natural Birch Plastic Laminate Plain/Almond Plastic Laminate
Book Compartment/Almond Plastic Laminate
Tote Tray/Almond Plastic Laminate
$2,150.00 $2,381.00 $2,473.00 $1,500.00 $1,690.00 $1,820.00 $1,500.00 $1,690.00 $1,820.00
This is a representation of the products available. Please contact us for a complete selection and delivered pricing.