Page 83 - 2019 Teachers' Lounge Classroom Furniture & Technology Catalog
P. 83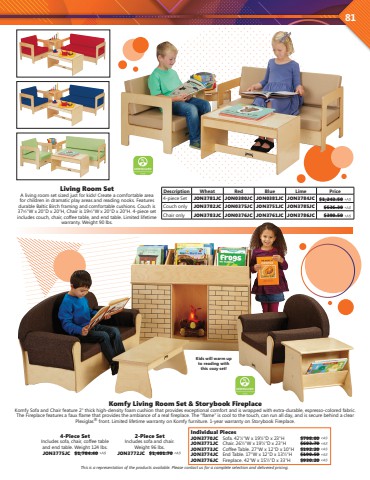 81
Design That Matters
Custom created by celebrated modernist designer, Edgar Blazona, TrueModernTM presents furniture with a simple, sleek,
and decidedly re ned look and feel. TrueModern presents a "no fuss" approach to children's furniture that looks and functions with ease in any home or educational setting. TrueModern features sliding doors, metal legs, and handle cutouts to give each piece a contemporary look that complements any interior design scheme.
• Modern and contemporary
• Designer inspired
• KYDZSafe® features
• KYDZTuff®  nish
• Eco-friendly construction in Baltic Birch, a highly
renewable and durable wood
TrueModern Play Kitchen
The ultimate in creative play! Loads of interactive elements keep kids entertained. Ample storage and aesthetic design that
adults will appreciate.
JON1710JC
JON1708JC JON1709JC JON1707JC JON1739JC
Fridge
Sink Stove Cupboard Grill
$393.20
$371.20 $371.20 $382.30 $396.70
TrueModern Storage Units
The storage shelves feature open top storage, while the bottom has two sliding doors to help conceal items so children can focus on learning. The Twenty-Cubbie Shelf neatly organizes items while adding a contemporary look.
JON1717JC Low
JON1718JC Standard
JON1716JC Twenty-Cubbie Shelf with 20 white
Cubbie Trays
$451.00
$504.50 $724.20
TrueModern Five Space Locker
Modernistic, metal coat hook is ultra-strong and can hold heavy back- packs, coats, and more. Each of the  ve sections includes two hooks and above cubbie space. Handy seat ledge for sitting while tying shoes or putting on boots. Lower space with two sliding doors is great for concealing larger items. Includes  ve name tag holders.
JON1720JC $737.50
This is a representation of the products available. Please contact us for a complete selection and delivered pricing.